​How our technology works

The digitization of smell.
TSI-3000 Analyzer
The security solutions implemented by SmellCells are based on the analysis of volatile organic compounds (VOCs) and particles in the air, exhaled breath and in liquids using state-of-the-art technologies (ion mobility spectrometry, IMS).

For field operations, IMS technology is particularly suitable for the rapid and reliable detection of traces in the air (air sampling) and on surfaces (swab sampling). Specially developed, polymer-coated and patented sample cards are used for sampling.

The devices are mobile and portable, easy-to-use ion mobility spectrometers that use chemical trace detection (CTD) to identify VOCs and other particles emitted by hazardous substances with an extremely low false alarm rate (<1%).
Sample Cards

Sample cards are used for air sampling.
Sample cards are made of a chemically treated, fine and patented wire mesh.
For air sampling of individuals, closed rooms and objects, the air is aspirated with a specially fitted suction device (Handheld Sampler, 150 l/min) or a more powerful suction device (High Volume Sampler, 1000 l/min).
The air flow is directed through the sample card to which the molecules of hazardous volatile organic compounds (VOCs), minute particles and vapors adhere to the wire mesh.
After taking a sample, the sample card is inserted into the analyzer, where the molecules are desorbed by heating and then analyzed in a gaseous state.
The sample cards are suitable for taking air samples at extreme room and outdoor temperatures from -20 to 55°C.
The sample cards are very robust, field-tested and can be used several times.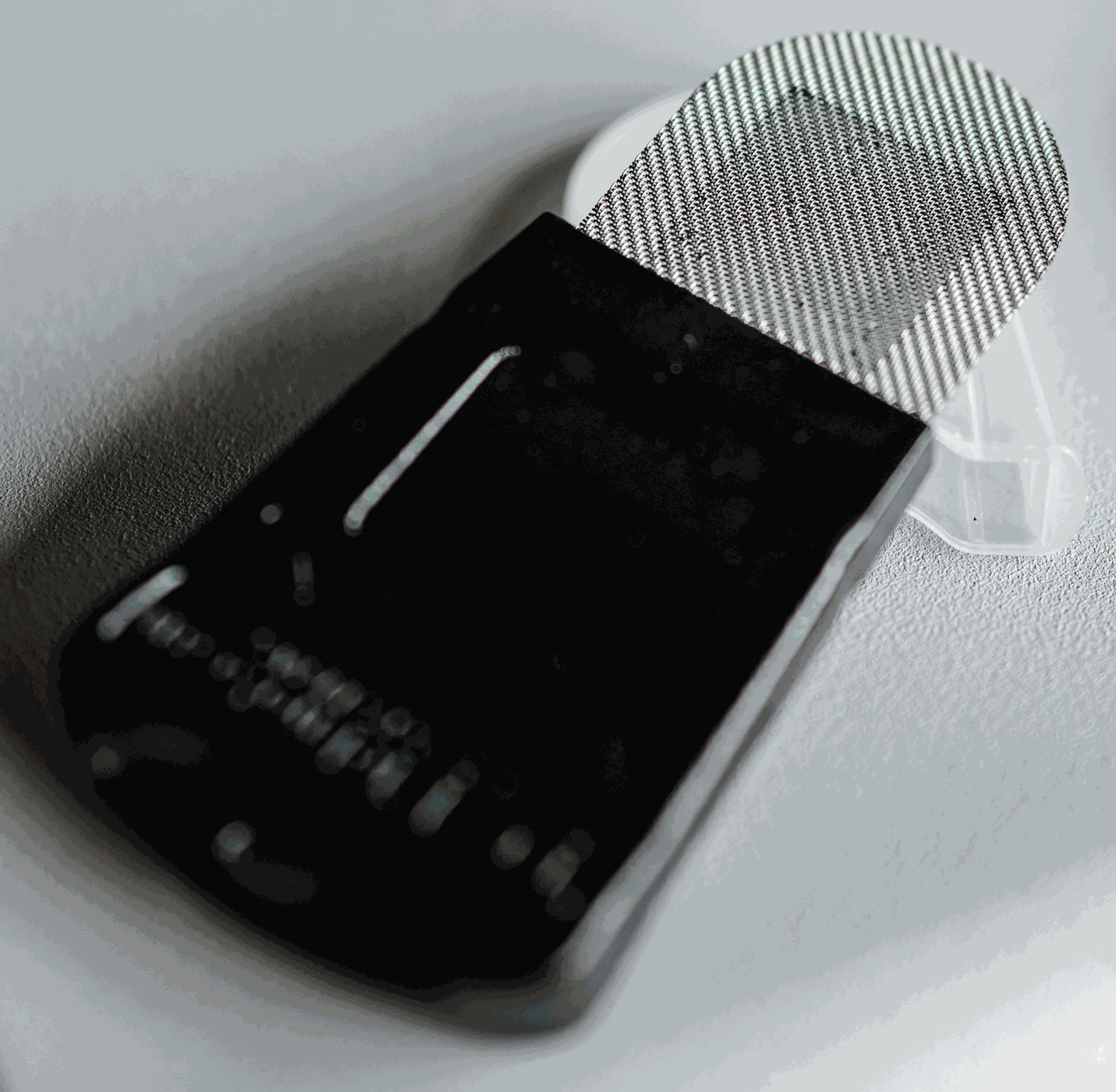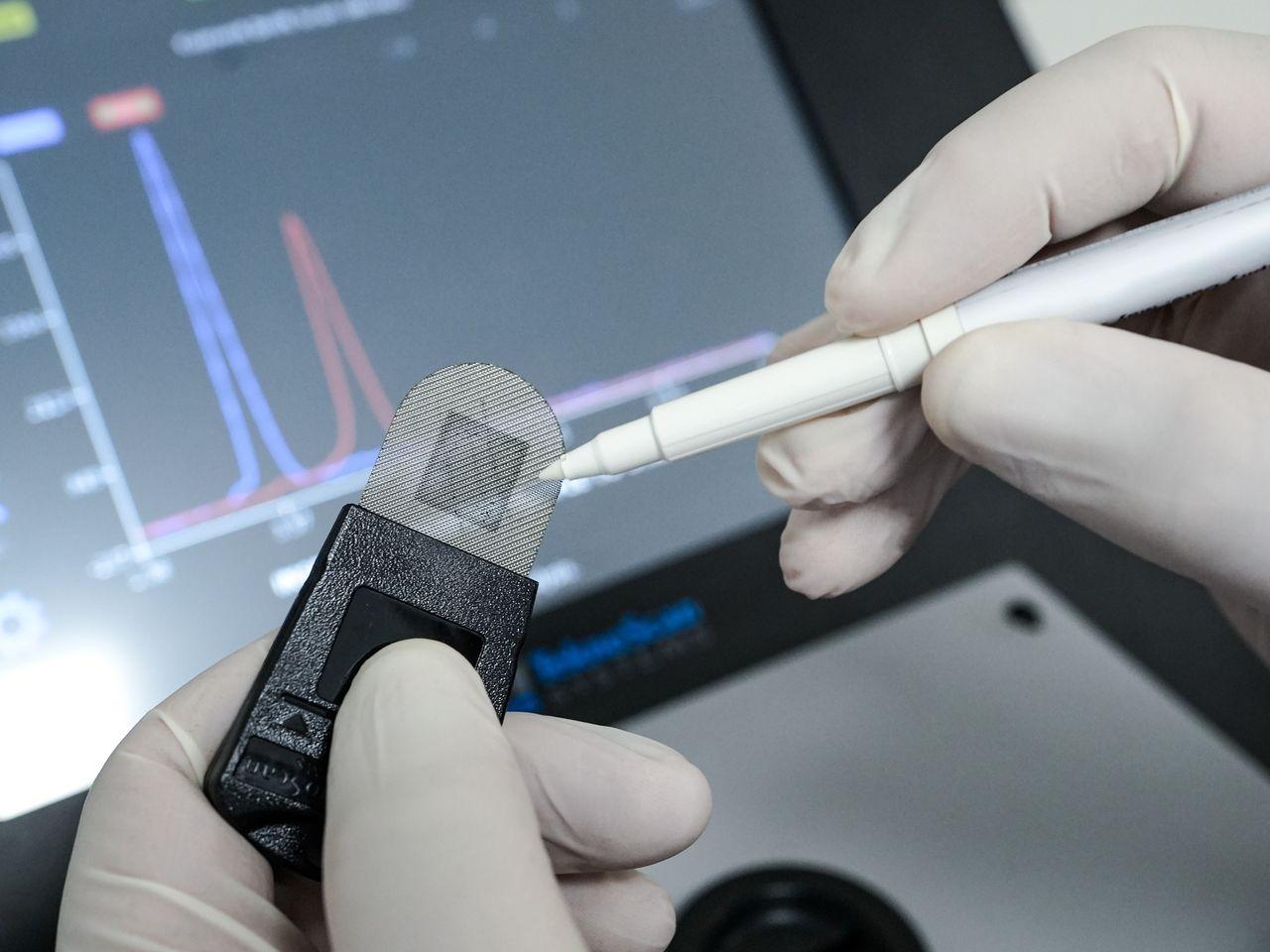 Verification Pen
The verification pen has been specially developed for the calibration of TSI-3000 analyzers.
Two to three lines with this pen are required on the sample card.
The analysis device is set to the verification mode and the sample card is inserted.
The calibration procedure takes 30 seconds to verify the correct operation of the analyzer.
What do you want to smell?


Let's work together on your customized security solution.
​Sample Cards Cleaner

Up to five sample cards can be inserted into the cleaning device at the same time.
Sample cards are exposed to heat.
All vapors and particles are removed by blowing air through the hot sample cards.
The cleaning process takes five minutes.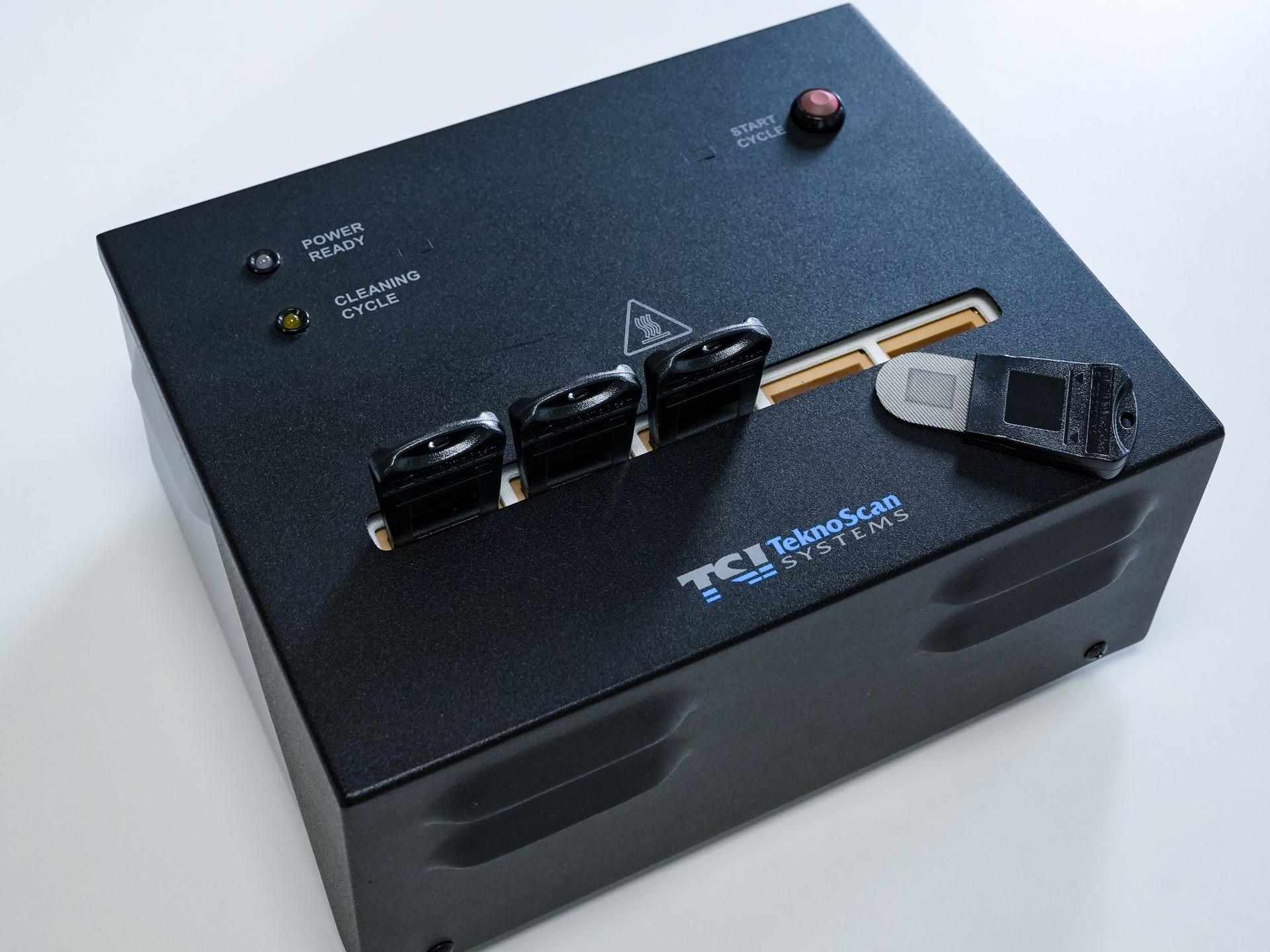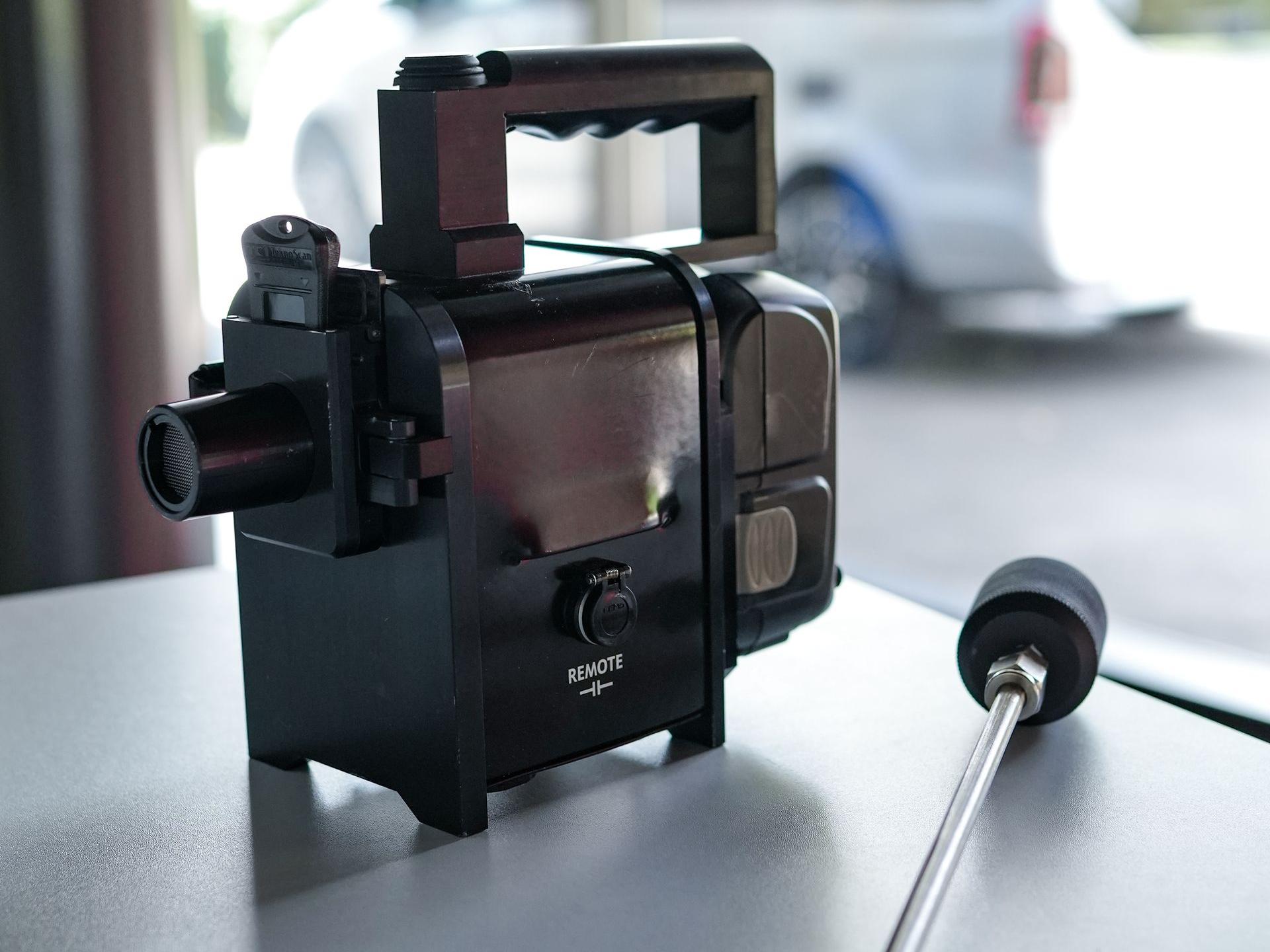 Handheld Sampler (HHS-150)

Battery-powered HHS units are used for particle and vapor sampling of medium to small objects such as luggage, pallets, cars, etc.
Various probes are available for the HHS-150 for special applications.
Sampling flow rate: 6-150 l/min
With an optional holder, the HHS-150 can be held by a robot and operated by remote control.
High Volume Sampler (HVS-1000)

The HVS is used for particle and vapor sampling of large objects such as freight containers, trucks, large rooms, etc.
For sampling, the sample card is inserted into the adapter of the HVS-1000.
Sampling flow rate: 550-1000 l/min
Blockages or restrictions of the air flow due to intentional manipulation or unintentional obstruction are detected by the HVS-1000 and indicated visually.
The HVS-1000 can additionally be connected to the ventilation opening of any container by means of a magnetic lock.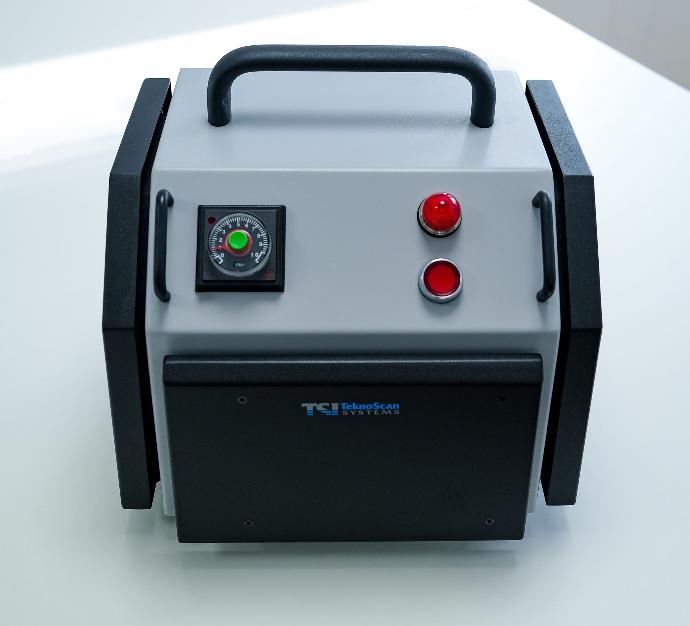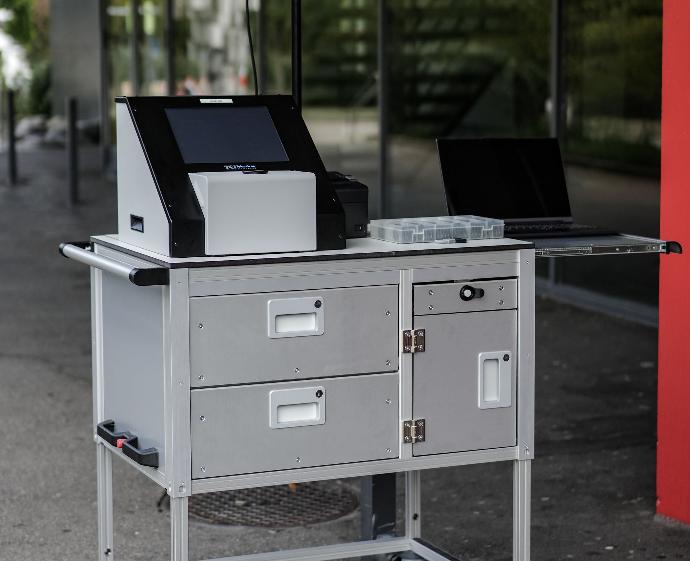 Trolley

A modular trolley is available for on-site use. It is designed for use in standards vans.
A pull-out table can be used as an additional work surface (laptop, tablet, etc.).
Two spacious drawers offer enough space for important work utensils.
An integrated battery allows for power-independent device operations of up to 10 hours. The trolley has integrated WiFi and GPS functionality.